COACH DAVID BITNER
UESCA Certified Ultramarathon Coach
My start in ultramarathons came when a friend of mine dared me to do the Moose Mountain Marathon, part of the Superior Trail Races in Northern Minnesota. At the time, this seemed like an entirely insurmountable challenge, but every time I felt ready to throw the towel during the race, I would see a runner in the 100 mile event who had started a full 24 hours before me.
Witnessing the community that surrounds an historic 100 miler like Superior–and how there are more people cheering for the last person to come in before the cutoff than for the first finisher–I was hooked. I have since completed over dozens of ultramarathons, including the Superior 100.
I started coaching trail running in 2009, and have come to find just as much inspiration and satisfaction in helping others achieve their goals as I do in finishing my own races. I look forward to working with you!
I have limited availability for one-on-one coaching and race planning services. Please reach out if you would like more information or come join me for a run with the Missing Link Run Club.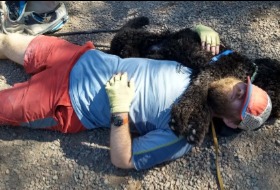 Push past your limits
You don't know what you are capable of unless you go for it. This is Milo (whose paw print is the basis of the MLR logo) consoling me after a DNF at Mile 80 of the Superior 100.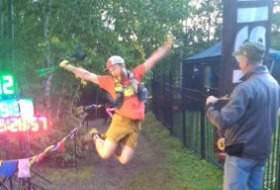 100 Mile Finish
After several years completing the marathon distance and two attempts at the Superior 100 miler, you could say I was a bit ecstatic to cross the 100 mile finish line on the third try!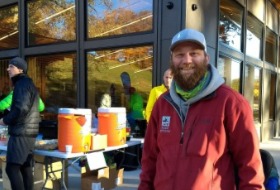 Race Director
Hanging out at the Loopet Loppet, the first ultra race that I created/directed.